El propio Fidel Castro nos descubre su Talón de Aquiles.
Fidel Castro himself reveals us his Achilles Heel.
Tras dos artículos publicados en el mes de julio y agosto del 2016 sobre la muerte de Camilo Cienfuegos, una investigación basada en el testimonio del Comandante Jaime Costa Chávez, ya teníamos argumento más que suficiente para asegurar donde se encontraba la pista de aviación donde le dieron muerte a Camilo, a solo 3.5 kilómetros al Sureste del caserío de Soplillar, lugar donde sabemos Fidel Castro pasó su célebre noche de Navidad con las familias de los carboneros.

After two articles published in the month of July and August of 2016 about the death of Camilo Cienfuegos, an investigation based on the testimony of Commander Jaime Costa Chavez, we had enough argument to say that the airstrip where Camilo was killed, was located immediately to the east of a plain terrain that exists nowadays in Zapata Swamp (Cienaga de Zapata), only 3 and a half kilometers to the Southeast of the hamlet of Soplillar, the place where we all know Fidel Castro spent his famous Christmas night with the families of the coal workers.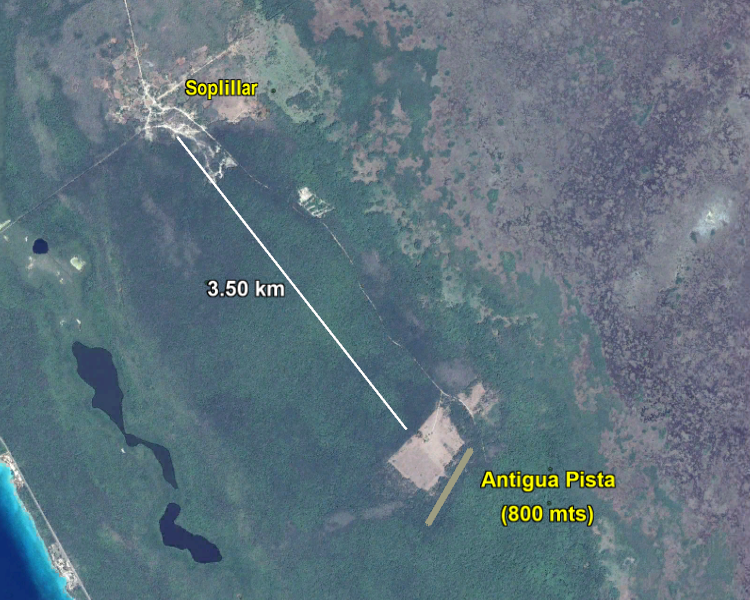 Durante el tiempo transcurrido desde la publicación de estos artículos he podido realizar una investigación mucho mas profunda sobre el tema, pero no es hasta este momento que decido continuar publicando el resto de los detalles descubiertos, detalles que sin duda resultan en extremo interesantes.
During the time passed since the publication of these articles, I have been able to carry out a much deeper investigation on the subject, but it is not until this moment that I decide to continue publishing the rest of the details discovered, details that undoubtedly are extremely interesting.
En esta ocasión haremos un breve recuento de lo descubierto anteriormente, a la vez que incorporamos el aporte realizado a nuestra investigación por el propio comandante en jefe, fallecido apenas tres meses y medio después de la publicación del segundo artículo, aunque para los efectos de este trabajo, su desaparición física no tiene repercusión alguna en cuanto al efecto que el conocimiento de esta información pueda causar, porque su legado está ahí. Es su imagen como lider la que está en riesgo, por lo que solo hay que esperar y ver el curso que vayan tomando los acontecimientos. Yo soy solo un individuo, pero Dios es grande, y es en su justicia en la que realmente confío.
On this occasion we will make a brief account of what was discovered previously, but I will also add the contribution made to our investigation by the commander in chief himself. Fidel died only three and a half months after the publication of the second article, although for the purposes of this work, his physical disappearance has no visible impact on the effect that the knowledge of the information may cause, because his legacy is there. It is his image as a leader what is at risk, so we just have to wait and see the course that events could take. I am only an individual, but God is great, and it is in his justice in what I really trust.
Como antes mencioné, es ahora al propio Fidel a quien tenemos que agradecerle por darnos una información de suma importancia.
As I mentioned previously, it is now Fidel himself who we have to thank for giving us such important information.
Recapitulando lo considerado en artículos anteriores:
Going back to previous articles:
PRIMERO.  Un reporte secreto de la CIA nos confirmaba la construcción de la pista en 1959.
First.– A CIA report confirms the construction of the airstrip in 1959.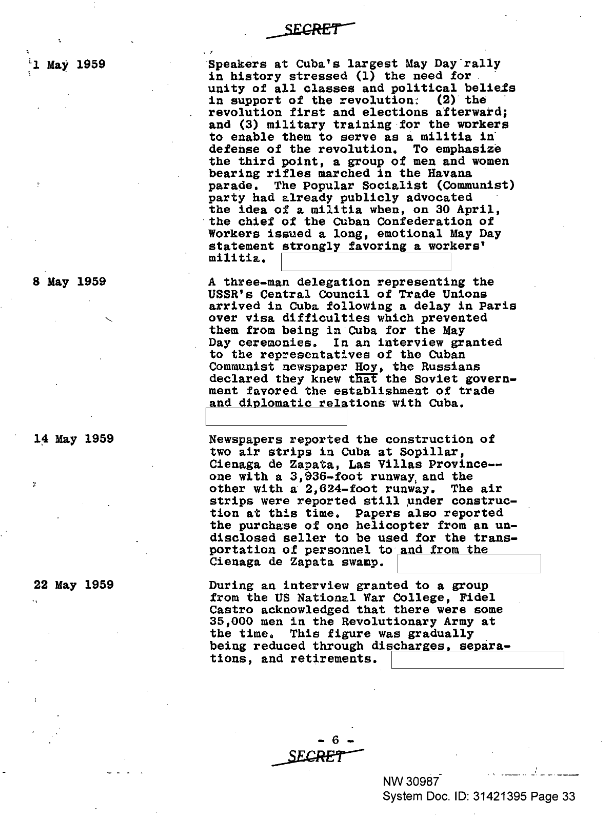 La traducción del texto dice lo siguiente:
The translation reads as follows:

14 May 1959.   –"Los periódicos reportaron la construcción de dos pistas aéreas en Cuba en Sopillar, Ciénaga de Zapata, provincia de Las Villas, una con una longitud de 3,936 pies (1,200 mts), y la otra de 2,624 pies (800 mts). Se reporta que ambas pistas se encuentran aún en construcción.
También reportaron la compra de un helicóptero a un vendedor no revelado, el que será usado en la transportación de personal hacia y desde la Ciénaga de Zapata".
14 May 1959.   Newspapers reported the construction of two air strips in Cuba at Soplillar, Cienaga de Zapata, Las Villas Province, – one with a 3,936 -foot runway and the other with a 2,624 -foot runway. The air strips were reported still under construction at this time. Papresr aldo reported the purchase of one helicopter from an undisclosed seller to be used for the transportation of personnel to and from the Cienaga de Zapata swamp.
Enlace al reporte: https://www.cia.gov/library/readingroom/docs/DOC_0005742779.pdf
SEGUNDO:    Una nota en El Diario de la Marina fechada también el 14 de mayo de 1959 decía que ya la pista estaba en construcción, y avanzado mas en el texto encontramos detalles sobre los diferentes proyectos que se estaban realizando en la Ciénaga de Zapata. En referencia a los aeropuertos decía:
Second: A note in Diario de la Marina dated also on May 14, 1959 said that the airstrip was already under construction, and advancing further in the text we find details about the different projects that were being performed in the Ciénaga de Zapata. In reference to the airports the newspaper said: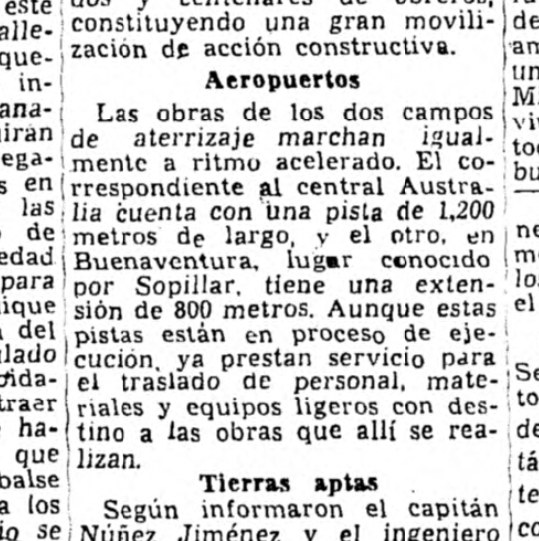 Aeropuertos.
Las obras de los dos campos de aterrizaje marchan igualmente a ritmo acelerado. El correspondiente al central Australia cuenta con una pista de 1,200 metros de largo, y el otro, en Buenaventura, «lugar conocido por Soplillar», tiene una extensión de 800 metros. Aunque estas pistas están aún en proceso de ejecución, ya prestan servicio para el traslado de personal, materiales y equipos ligeros con destino a las obras que allí se realizan.
Airports: The works on the two landing fields are proceeding apace. The one corresponding to the central Australia has a 1,200 meter long runway, and the other, in Buenaventura, «a place known for Soplillar», has an extension of 800 meters. Although these airstrips are still in the execution process, they already provide service for the transfer of personnel, materials and light equipment to the works that are carried out there.
Diario de la Marina. La Habana, 14 de mayo de 1959.
Enlace al Diario:  http://dloc.com/UF00001565/00114/14x
*******************
Aporte del Comandante en Jefe al confirmar la existencia de la pista de Soplillar.
Contribution of the Commander in Chief confirming the existence of the Soplillar airstrip.

Una vez que Fidel bandonó su posición como jefe máximo del gobierno, y con el objetivo de mantener vivo el espíritu de luchador incansable que revivía sus hazañas a lo largo de mas de medio siglo de Revolución, nos lo encontramos dedicado por completo a la actividad literaria, sus conocidas Reflexiones y una que otra obra publicada, entre las que «La Batalla de Girón» se destaca como uno de las más importantes. Una obra en dos partes, la primera de las cuales fue publicada el 14 de Abril del 2011, que salió con la siguiente presentación:
Dedicated entirely to the literary activity Once Fidel left his position as head of the government, and with the aim of keeping alive the spirit of tireless fighter who revived his exploits throughout more than half a century of Revolution, we find him dedicated entirely to the literary activity, with his very well known «Reflections», and one other published work, as «La Batalla de Girón», which stands out as one of the most important of his works. It was published in two parts, the first of which came out on April 14, 2011, showing the following presentation: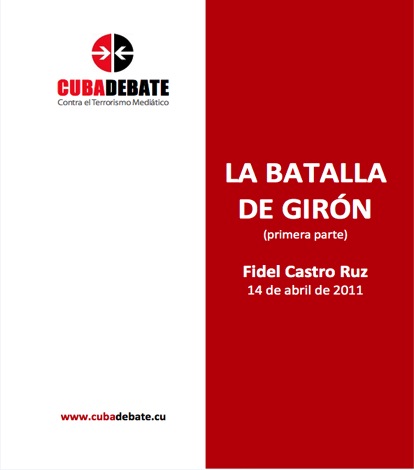 Veamos ahora lo que nos dice el Comandante en la Página 44.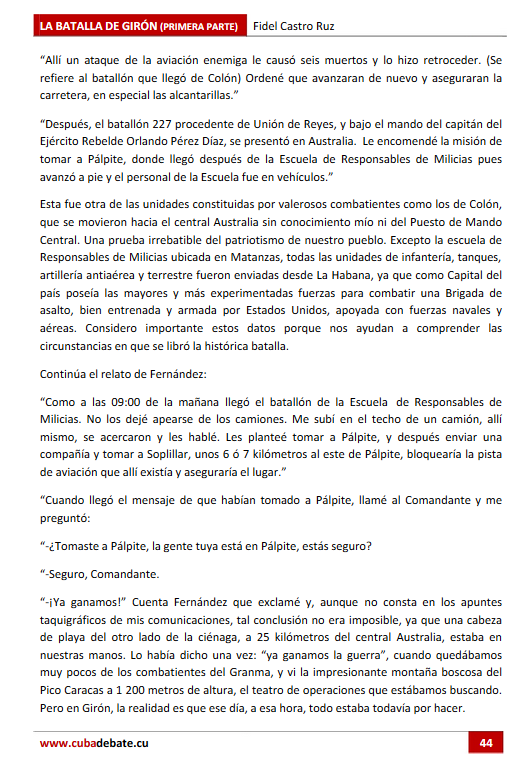 En la mitad de la página leemos lo siguiente:   (Palabras  del Comandante de División José Ramón Fernández)
Continúa el relato de Fernández:
"Como a las 09:00 de la mañana llegó el batallón de la Escuela de Responsables de Milicias. No los dejé apearse de los camiones. Me subí en el techo de un camión, allí mismo, se acercaron y les hable. Les planteé tomar a Pálpite, y después enviar una compañía y tomar a Soplillar, unos 6 ó 7 kilómetros al este de Pálpite, "bloquearía la pista de aviación que allí existía" y aseguraría el lugar".
***********************
Fernandez story continues:
«Around 9:00 am the battalion of the School of Militia Leaders arrived. I did not let them get off the trucks. I got on the roof of a truck, right there; they approached and talked to them. I asked them to take Pálpite, and then to send a company and take Soplillar, some 6 or 7 kilometers east of Pálpite, they would block the airway that existed there and would secure the place.»
***********************

Mientras narraba los hechos ocurridos durante la invasión por Bahía de Cochinos, Fidel hace referencia a una pista que existía en Soplillar, pero que evidentemente se trataba de una pista que no se había utilizado durante esa operación militar, además, en ningún momento se dijo que un avión aterrizara o despegara de la misma. Considerando todos estos detalles, no me cabe dudas que esta pista no puede ser otra que aquella cuya construcción fue reportada en el Diario de la Marina del 14 de mayo de 1959. Por supuesto que era algo sumamente raro que una pista recién construída, y que a los dos años se refieran a ella como una pista que había existido, lo que me dió por pensar que esta pista tenía mucho que ver con la que mencionaba Jaime Costa en su historia, y mucho más cuando ya había identificado un lugar que me resultaba sumamente sospechoso a poco más de 3 kms de Soplillar.
While mentioning the events that occurred during the invasion of the Bay of Pigs, Fidel makes reference to an airstrip that existed in Soplillar, but evidently it was one that had not been used during that military operation, moreover, at no momet is was said that a plane landed or took off from there. Taking into consideration all these details, it is evident that this airstrip can not be other than that whose construction was reported in the Diario de La Marina Newspaper of May 14, 1959. Of course it was something extremely rare that a recently built runway, and that after two years they are making reference to it as a track that had existed, which seemed indicate that this airstrip had a lot to do with the one that Jaime Costa had mentioned in his story, and much more when I had already identified a place that appeared to be extremely suspicious, at just over 3 kms from Soplillar.
Enlace a la Primera Parte:   (Link)  https://www.scribd.com/document/53079805/La-Batalla-de-Giron-Primera-parte
Link to the First Part.
*****************************

La Segunda Parte de La Batalla de Girón fue publicada el 25 de mayo del 2011, pero aquí Fidel nos ofrecía detalles más precisos aún sobre la ubicación de la pista en relación con Pálpite y Soplillar, este último un batey con unas pocas casas, que se encontraba a no mucha distancia de la pista en cuestión y donde vivían familias de carboneros. Esta información aparecía en la página 18.  
The Second Part of La Batalla de Girón was published on May 25, 2011, but here Fidel offered us more precise details about the location of the airfield in relation to Pálpite and Soplillar, a hamlet with only a few houses, which was not too far from the airfield and where the residents were coal families. This information appeared on page 18.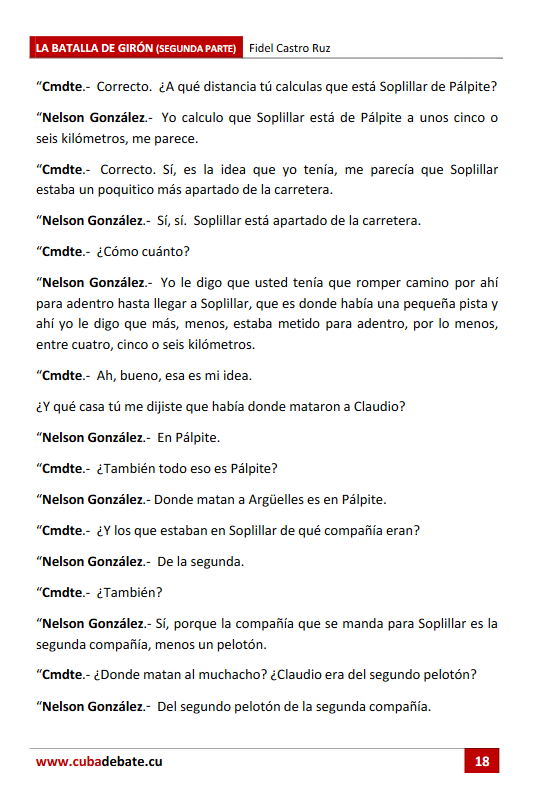 Transcripción.
«Cmdte.– Correcto. ¿A qué distancia tu calculas que está Soplillar de Pálpite?
«Nelson Gonzalez.- Yo calculo que Soplillar está de Pálpite a unos cinco o seis kilómetros, me parece.
«Cmdte.- Correcto. Sí, es la idea que yo tenía, me parecía que Soplillar estaba un poquitico mas apartado de la carretera.
«Nelson Gonzalez.- Sí, sí. Soplillar está apartado de la carretera.
«Cmdte.- ¿Cómo cuánto?
«Nelson Gonzalez.- Yo le digo que usted tenía que romper camino por ahí para adentro hasta llegar a Soplillar, que es donde había una pequeña pista y ahí yo le digo que más, menos, estaba metido para adentro, por lo menos, entre cuatro, cinco o seis kilómetros.
«Cmdte.- Ah, bueno, esa es mi idea.
****************************
The last portion says:
Nelson Gonzalez. – I tell you that you had to open a way in, to get to Soplillar, which is where there was a small airfield, and there I tell you that, more or less, it was inland for at least four, five or six kilometers
Enlace a la Segunda Parte:   https://www.scribd.com/document/56388550/La-Batalla-de-Giron-Segunda-Parte
Por increíble que pudiera parecer, era el propio Fidel quien nos estaba confirmando la existencia de la pista, aunque en realidad él no había sido el primero en dar a conocer la información, sino el Comandante de División José Ramón Fernández en una entrevista que le ofreciera a la periodista Magali García Moré el 20 de abril de 1976. Lo que hizo Fidel realmente en «La batalla de Girón» fue copiar  la información que había dado el gallego Fernández en aquella entrevista y simplemente publicarla de nuevo.
As incredible as it might seem, it was Fidel himself who was confirming the existence of the airstrip, although in reality he was not the first to make public the information, but the Commander of Division José Ramón Fernández, in an interview that he offered to the journalist Magali García Moré in April 20,  1976. What Fidel really did when he published «La batalla de Girón» was to copy the information that Gallego Fernandez had given in that interview and simply publish it again.
La que sigue es una prueba de esa primera publicación de la entrevista publicada por el Granma del día 18 de abril del 2014. En la página 8 aparece:
The following is a proof of that first publication of the interview published by Granma on April 18, 2014.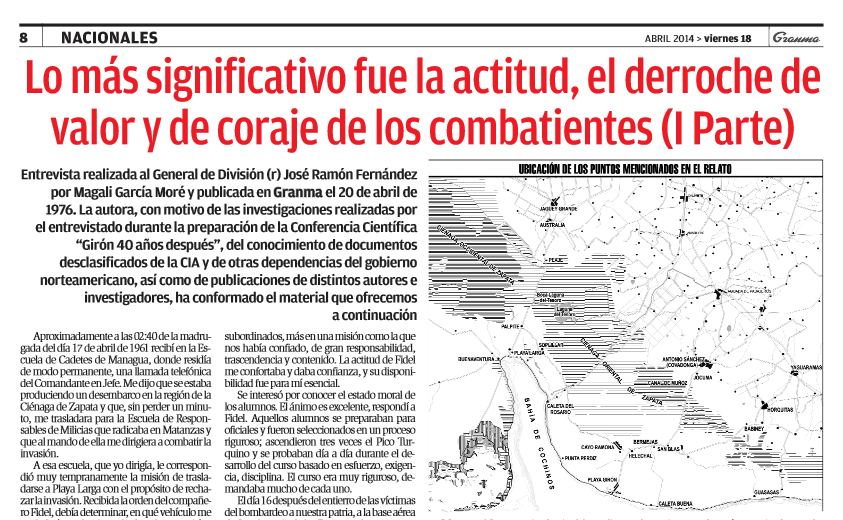 Enlace:    http://www.academia.edu/7821497/ÓRGANO_OFICIAL_DEL_COMITÉ_CENTRAL_DEL_PARTIDO_COMUNISTA_DE_CUBA_VIERNES_18_ABRIL_2014
En la primera columna de la página siguiente nos encontramos un párrafo cuyo contenido es el mismo que Fidel nos presentó en su trabajo.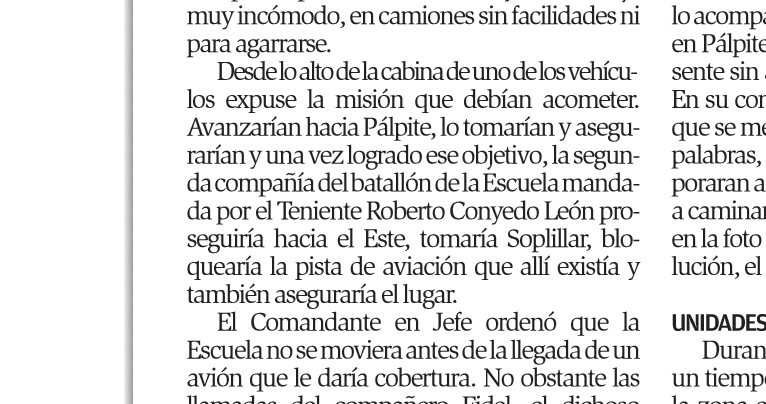 ………tomaría Soplillar, bloquearía la pista de aviación que allí existía y también aseguraría el lugar.
……..they would seize Soplillar, block the airway that existed there and would secure the place.»

El ego del héroe invencible parecía imponerse una vez mas, pero esta vez quizas con serias consecuencias. Fidel pensaría quizás que después de mas de cinco décadas quién iba a prestar atención a un detalle tan insignificante como lo era aquella pista de la que no quedaba ni rastro, era como si nunca hubiera existido, pero con su confesión lo único que estaba haciendo era confirmar que Jaime Costa había dicho la verdad sobre la muerte de Camilo, aunque de hecho su confesión no era la única forma de demostrarlo. Había otras formas, pues con solo realizar algunas pruebas en el lugar, sería suficiente para confirmarlo. Lo mas importante era el confirmar que Jaime Costa había dicho la verdad, la mentira venía de otro lugar, y eso era algo que no tenía por qué sorprendernos.
The ego of the invincible hero seemed to impose itself once more, but this time perhaps with serious consequences. Fidel would think perhaps that after more than five decades who would pay attention to a detail as insignificant as it was that track, from what no trace was left whatsoever, it was as if it had never existed, but with his confession the only thing he was doing was confirming that Jaime Costa had told the truth about Camilo's death, although in fact his confession was not the only way to prove it. There were other ways, because just doing some tests in the place, it would be enough to prove it.  The most important thing was to confirm that Jaime Costa had told the truth, the lie came from another place, and that was something that did not have to surprise us.

Actualmente, a no ser que seamos conscientes de lo que ocurrió en el lugar seis décadas atrás, en las vistas aéreas mas recientes es casi imposible darse cuenta que el color de la vegetación en el área donde estaba la pista aparece de un verde ligeramente más oscuro que el resto del área.  La siguiente foto del 2017 es la más reciente de que disponemos.
Currently, unless we are aware of what happened in the place six decades ago, in the most recent aerial views it is almost impossible to realize that the color of the vegetation in the area where the airstrip was located, appears a slightly darker green than the rest of the area. The next photo of 2017 is the most recent that we have.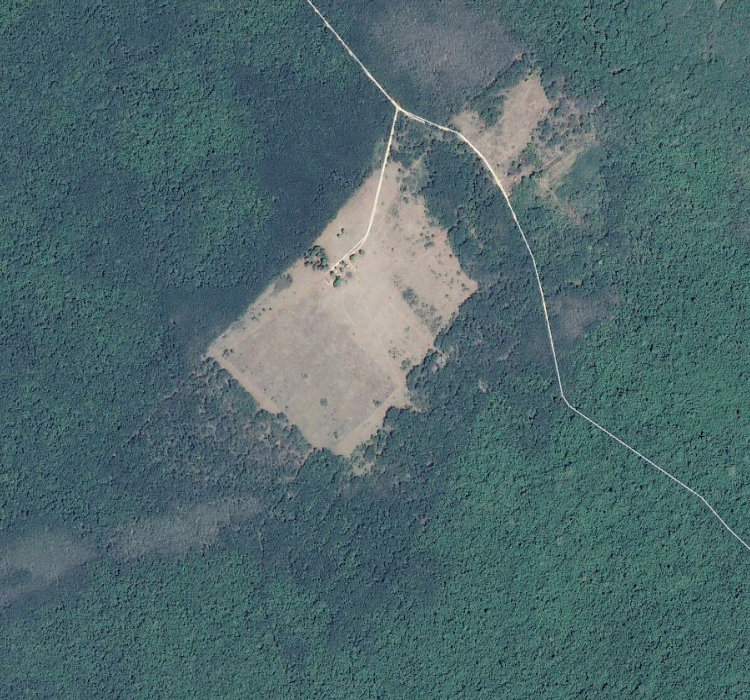 A continuación encontrarán los enlaces a los artículos anteriores donde aparece información mas detallada sobre el tema, incluyendo el texto completo del capítulo X del libro de Jaime Costa, cuyo contenido debía ser de dominio de todos los cubanos, porque esa es también parte de nuestra historia, nuestra verdadera historia, aunque los Castro hayan hecho lo indecible por mantenerla oculta.

Below are the links to previous articles with more detailed information on the subject, including the full text of Chapter X of the book testimony written by Jaime Costa, whose content should be known for all Cubans, because that is our true history, although the Castro have done all possible to keep it hidden.
*************
Parte 1.  Llega a su fin el misterio sobre la muerte de Camilo.
Part 1. The Mistery of Camilo Cienfuego's death gets to an end.

Capítulo X de «El clarín toca al amanecer»
Chapter X.  «Last hours of Camilo Cienfuegos»